Over the last 15 years "multiculturalism" has lost favour both in government and in public opinion, and the EU referendum result only confirms widespread anxieties about it. The lecture will examine carefully what we mean by the term, assess the current state of "multiculturalism" in the UK and offer a Christian perspective.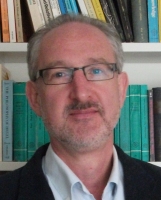 Dr Jonathan Chaplin is the first Director of the Kirby Laing Institute for Christian Ethics, a position he took up in September 2006. He is Member of the Divinity Faculty of Cambridge University, and was Visiting Lecturer at the VU University, Amsterdam from 2007-2011.
He is a specialist in Christian political thought, and has authored or edited nine books and reports, and many articles, in this field. His most recent publication is God and the EU: Faith in the European Project, co-editor (Routledge, 2016). He is currently writing a book called Faith in Democracy? Towards a Post-secularist Settlement.
From 1999-2006 he served as Associate Professor of Political Theory at the Institute for Christian Studies, Toronto, holding the Dooyeweerd Chair in Social and Political Philosophy from 2004-6, and acting as Academic Dean from 2005-6. From 1990-1997 he was Tutor in Politics at Plater College in Oxford, and from 1997-8, Fellow in Christian Political Thought at Sarum College, Salisbury. He is a member of the Advisory Council of the Cambridge Institute on Religion and International Studies (CIRIS) based at Clare College. In 2006 he was appointed Senior Fellow of the think-tank Cardus in Hamilton, Ontario, and writes regularly for Cardus's online journal, Comment. He is a consultant researcher for the UK think-tank Theos and has written for Guardian CiF Belief. He read PPE at Pembroke College, Oxford, received an MPhil in Political Theory from ICS and a PhD from London School of Economics and Political Science. He has served on the board or advisory councils of several organisations working on the relationship between Christian faith and public life, including the Movement for Christian Democracy, Citizens for Public Justice (Canada), the Social Action Commission of the Evangelical Fellowship of Canada, the theology committee of the Canadian Ecumenical Jubilee Committee, and the Civitas Program of the Center for Public Justice (USA). In the 1990s has was a regular contributor to Third Way magazine and served a term on the Editorial Advisory Board. He was a member of the UK Evangelical Alliance's Theology and Public Policy Advisory Council from 2007-2011. He is a member of the Advisory Council of Philosophia Reformata and of the Advisory Panel of the International Journal of Public Theology, a manuscript reviewer for Studies in Christian Ethics, Political Theology and Oxford Journal of Law and Religion, and a member of the Editorial Advisory Board of Evangelical Review of Society and Politics. He appeared in the list of 100 Top UK Christians 2014 on the Archbishop Cranmer website, nominated for 'beavering away on the intersection between theology and politics'.
He is married to Dr. Adrienne Dengerink Chaplin, a specialist in Christian aesthetics, and they have two children, Paul, who works for Friends of the Earth, and Lucia, a junior doctor. He attends St. Paul's Anglican Church, Hills Road, Cambridge.